16 Dec 2020
New church connections in St George and Little Mountain
At our 137th Annual General Meeting in 2020, we officially welcomed Riverlife Church of Christ in St George and Little Mountain Church of Christ on the Sunshine Coast.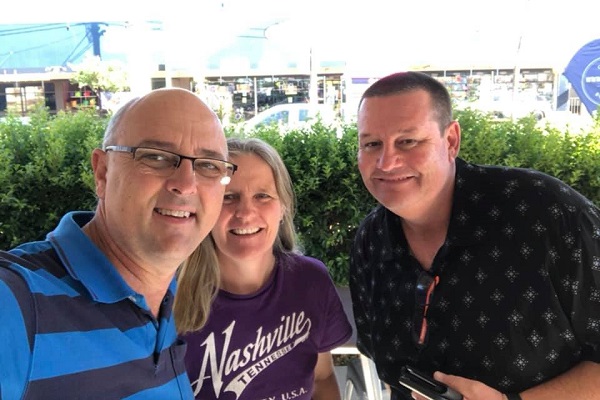 Although separated by more than 500 kilometres, both churches share a similar excitement about this new season.

Derek Schiller, the Pastor of Riverlife Church of Christ, said that this is an important new chapter for all three locations of the church situated along the Balonne River.

"We've experienced such encouraging growth over the past few years; God has really blessed us."
"At our St George campus, we've been fortunate to meet at the Warrawee Aged Care Service to provide services to our senior residents," Derek said.

"At all of our churches at Riverlife, our heart and our focus are to preach the Gospel of Jesus Christ to all that we can. We believe that as we proclaim Christ, the Holy Spirit will be in the business of saving people."

Director of Church and Community Engagement, Tim McMenamin, recently visited the Riverlife Church of Christ St George campus to mark the occasion and meet members of the church.

"It was a privilege to be there and officially welcome them in; we can't wait to see how the church continues to grow and positively impact their community," said Tim.

"We've welcomed in both Riverlife and Little Mountain now, and experiencing their genuine hope and excitement for the future has been really wonderful," he said.
Pastor of Little Mountain Church, Simon Teunis, said that it had been a long and at times a challenging, journey towards bringing his vision of the community church to life.

"I genuinely believe God has planned everything leading up to this point – the good and the bad; people have been faithfully praying over this site for more than 10 years," said Simon.

"We're really excited at the opportunity to be officially a part of this wonderful movement of Churches – even though we felt pretty connected already.

"I'm so keen to see what God will accomplish in this space through these exceptional people we call our Church family."

Churches in Christ in Queensland celebrated the affiliation of 68 churches across Queensland that seek to bring the light of Christ into their communities.