23 Aug 2019
Q & A with Chaplaincy Manager, Kevin Hamer
Hear what it means to be a chaplain in our Seniors Living and Housing Services.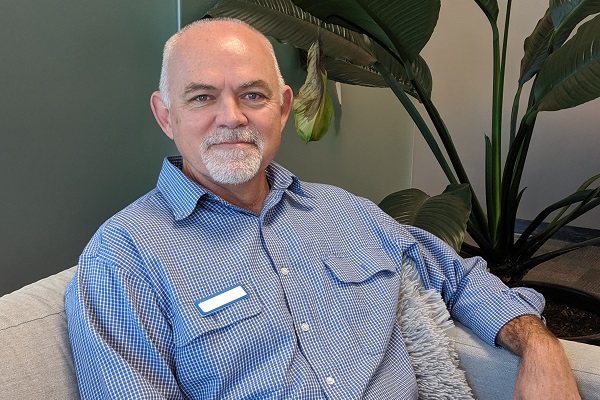 What does a Chaplain do?
Chaplains work in Churches of Christ in Queensland Seniors and Supported Living and Housing Services. Within our senior's space, we offer pastoral and spiritual care to residents, their families and staff and form part of the interdisciplinary team. In our Housing Services, we not only provide pastoral care, but operate from a community development platform to help residents build capacity to care for themselves and others.
Chaplains also provide religious services such as worship services, funerals, memorials and weddings. Chaplains are onsite pastors and each chaplain is responsible for developing a team of volunteers to expand the care and support offered.
What is pastoral care?
Pastoral care is simply, yet profoundly, a ministry of care and compassion where a pastoral carer walks alongside someone experiencing difficulty in life for whatever reason, and supports them to a healthier place. Holistic pastoral care provides such support for all aspects of a person's life whether that is physical, emotional, relational or spiritual.
Why does someone decide to become a Chaplain?
Chaplains sense God 'calling' them to this role. It is a unique role that is often exposed to death, trauma and grief which can take a great toll. But it is this sense of calling that helps chaplains through. It also affords an opportunity to express our faith through our work. As one of our chaplains said recently, "Chaplaincy enables me to build healthy community and to walk alongside people as they seek to ask, understand and find answers to the deeper questions of life".
What impact do they have on people's lives?
This is quite hard to quantify because often 'impact' is only realised when hearing stories from those who have been cared for, their families or friends. Sometimes just being with people, with the aim of being supportive, can be enough. When we see people breathing a little easier, or feeling valued, listened to and loved, we know we are making a difference to that person in that moment.


What is the most rewarding part of being a Chaplain?
I asked some chaplains this question. The common theme was offering hope to people in times when they may feel lost or a little hopeless. They commented on the beauty of sitting with someone, listening to their story and sharing a moment of friendship or to see a family member rest a little easier knowing their parent is being well cared for. Or to see a housing resident take a positive step forward in their lives, no matter what that looks like.
What is the most challenging part of a Chaplain's role?
In our seniors services, it is the regularity of death and grief that we are confronted with. When you get to know someone by name, learn their story, celebrate their life and then they pass, there is a sense of loss and sadness. In Housing, it is seeing people make poor choices and struggle to take forward steps. This is tough, but it reinforces our important work to support them.
How do people access a Chaplain?
Chaplains are part of the team, and are accessible to anyone who needs support. While chaplains work standard hours, they also make themselves available to people in need of urgent care outside those hours. If you need a chaplain, and there is not one attached to your service, you're welcome to contact me as the chaplaincy manager for a referral.
How can we better support Chaplains?
We love what we do. But like everyone, encouragement is like oxygen to our souls. So if you can, encourage your local chaplain. If you are a person of faith, pray for them. If you have time and inclination, why not join their team as a volunteer?
What can someone expect if they seek support from a Chaplain?
Please, do it. Some people get concerned that chaplains will want to preach to them. This is not what we do. Of course we are Christians, and are happy to talk with anyone about Jesus, but this is not what we lead with. Our faith forms the basis of why we do what we do, but our first goal is to meet the person seeking help where they are, and support them in the best way for them, to bring them uplift and a step toward well-being. It's another form of person-centred care, if you like.
What would you say to someone who is considering becoming a chaplain, or a volunteer who may like to work with a chaplain?
To quote one of our chaplains "Be yourself, look after yourself, and seek God in all circumstances." I think this sums it up as chaplaincy flows out of 'who' you are more than 'what' you do. Self-care is extremely important due to working with those who may be undergoing stress, grief or trauma and know that you are partnering with God in this role. So stay close to God.