17 Apr 2019
Housing Services wins three awards at 2019 Australian Housing Institute, Professional Excellence in Housing Awards
Churches of Christ Housing Services wins three awards at 2019 Australian Housing Institute, Professional Excellence in Housing Awards in Queensland.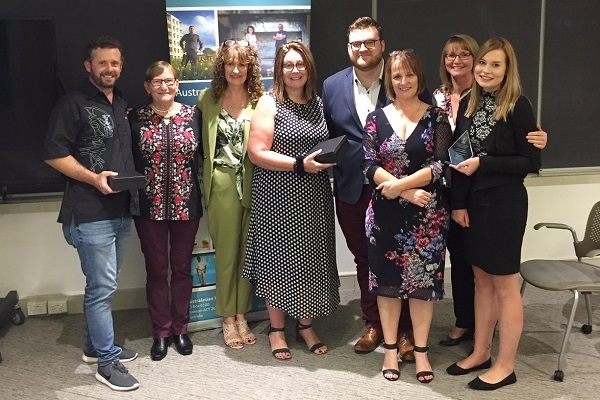 The awards, announced in Brisbane on Thursday, 11 April, recognise the outstanding work the service has done to lead the way in community engagement practice (Digi Ask), a housing development project (Kurrajong) and tenant lead activity (Bribie Island Campus).

Leading Community Engagement Practice Award – DigiAsk

DigiAsk connects people in social housing, and those who are homeless or at risk of homelessness, with essential services by increasing digital literacy and access to resources in a housing mobile office or 'van'.

CofCQ Housing Services General Manager Frances Paterson-Fleider said: "We are very proud of what DigiAsk has achieved in little over a year. In that time, DigiAsk has supported almost 500 patrons with phone and internet services. We have been able to give away free reconditioned smart phones, charge phones and provide access to the internet, print documents and help patrons navigate MyGov, and generally participate in the online world.

"In providing this service we enable individuals to become or remain connected to the community in which they are living, to their family and friends and to other specialist services providing support. Our service is free and inclusive.

"DigiAsk is unique when compared to other providers operating the more 'traditional' outreach service of food and drinks. We recognise how the lack of technological connectedness impedes on an individual's ability to not only establish and maintain their support systems but more generally to access pathways out of homelessness, to find pathways into employment and to actively participate in today's society.

We are grateful to all our partners in this initiative and especially to Brisbane City Council, The Department of Housing and Public Works, McNab Builders and Downtown Toyota for their financial support."

Leading Housing Development Project Award – Kurrajong

The $10.6 million development at Kallangur opened on Brisbane's northside in late 2017. It provides a diverse range of 50 single and double storey townhouses with one, two and three-bedrooms for individuals, couples and families.

Focussed around a community centre, the townhouses are attractive high quality builds offering multiple internal configurations. Built on land donated by a local family, Ian and Neva Handy, the project received strong market acceptance from individuals and families in need of safe and quality accommodation at an affordable price.


Housing Services General Manager Frances Paterson-Fleider said: "While we continue to grow our core social housing portfolio we are also moving to address the gap in affordable housing provision that is increasingly beyond the reach of many Australians.

"As the first affordable 'build to rent' development of its kind in Australia, our Kurrajong development demonstrates how philanthropists and the not-for-profit sector can partner to create affordable living solutions and achieve financial and social returns".

Tenant Led Initiative Award – Bribie Island Social Club

The Bribie Island Social Club, a resident-lead group at the Churches of Christ Housing Services Bribie Island Campus, has won the Tenant Lead Activity Award. The club is a self-funded, self-organised group led by a five person committee who make a huge commitment, offering a wide range of activities for all.

The Bribie Island Social Club Committee Chair Janette Lynch said, "I am very proud to accept this award. My involvement in the Social Club has given me a new lease on life. We have a great time".

Echoing Janette's words, Housing Services General Manager Frances Paterson-Fleider said, "The Bribie Island Social Club demonstrates how a small group of individuals – most in their twilight years – can work together successfully and productively and in doing so support each other through the good and bad.

"We want our residents to enjoy an abundant life of meaning and purpose as they age and social interaction is a key component of this. As an organisation, we strive to facilitate the creation of empowered communities where residents drive their own activities and for all of this to be a sign of trust between landlord and tenant. Well done to the Bribie Island Social Club."

At the heart of the club is inclusion and lots of fun. It is a group where everyone is not only welcomed but encouraged to find a way to be involved, breaking down social isolation that many seniors experience.

Congratulations Housing Services for an outstanding industry achievement!