24 Mar 2021
Joan shares the joy about her new home at Fassifern Aged Care Service
We met Joan and her family at our Fassifern Aged Care Service in Boonah, Queensland. Joan, who is 93, shared her experiences of being part of the Churches of Christ community.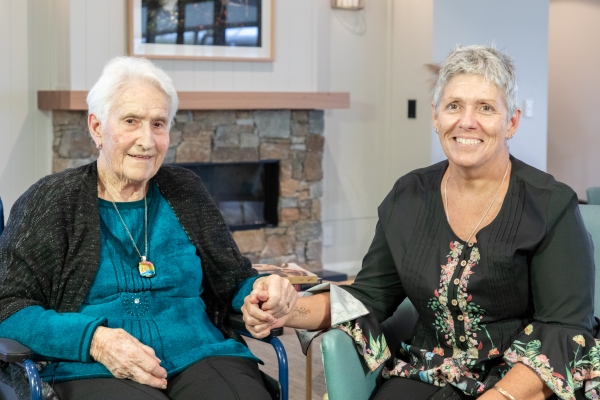 Fassifern Aged Care Service has been Joan's home for more than 16 months. She recently moved into the service's new state-of-the-art facility, which provides a warm, welcoming home where residents feel safe and secure and receive optimal, individualised care.

"My new room is very nice - I won't know myself for a while, I'll have to get used to it all! Everything is so convenient," Joan said.

Her daughter Jennifer added: "It's so fresh and beautiful. And the atmosphere is happy. I just love it, love it, love it!"

"Oh I do too," Joan agreed.
A modern environment with a homely feel
Joan's new room is in one of four cottages, each with 16 bright and spacious private bedrooms, and all with their own ensuite and emergency call system.
"I was concerned about moving but I like my room very much, especially having my own bathroom and space to turn [my wheelchair] around in.
"I like the lower windows. You can look out onto the gardens and see all the flowers," Joan said.
"There's plenty of space for your things, Mum!" Jennifer pointed out.
Meeting the specific needs and wants of each resident
Maintaining her independence is important to Joan. "If I can do a thing myself, I do it. But if I want some help, the nurses will help me straight away. I regard them as good friends," she said.
The new building offers Joan plenty of opportunities for independence, with the ability to be involved in everyday activities she would have done at home, such as preparing snacks.
Dedicated care teams located in each cottage can build closer relationships with residents to better understand their personal and health care needs.
"Nurses, staff, everybody is like a big family. Even on her down days, they help cheer her up," Jennifer said.
At home in the country
A country girl at heart, Joan grew up on a dairy farm in a small town near Kingaroy and spent much of her married life raising her family in Murgon.
"Boonah is very like where we lived in Murgon. I like being part of the Boonah community, and the people. Everyone is friendly," Joan said.
Thanks to her cottage's range of communal living spaces, Joan can socialise with fellow residents, relax with family and friends, or enjoy some quiet time. There's also shared outdoor facilities including barbeque and dining areas.
"It's magic to visit here. If you've got visitors, instead of sitting in your room (if you don't want to) you can go out to the meeting areas," Jennifer said.
Focus on quality of life and positive wellbeing
For many of us, home is not just a place where we live. It can also mean warmth and security. Jennifer, whose priority is ensuring her mother's safety and wellbeing, is reassured by the service's focus on creating a positive community environment where residents feel safe, respected and valued.
"This is a good place, it's run well, and the staff are so nice," she explained.
Before we left Joan to continue enjoying her new home, we asked her for her final thoughts on Fassifern Aged Care Service:
"Well, it's lovely. I think I'm very fortunate to be here."