15 Apr 2019
Living retirement to the full
Fassifern Retirement Village residents John & Jan Gellatly embarked on a journey of rediscovery when they moved from their 2.5 acre house in Ipswich to a three-bedroom home in the retirement village.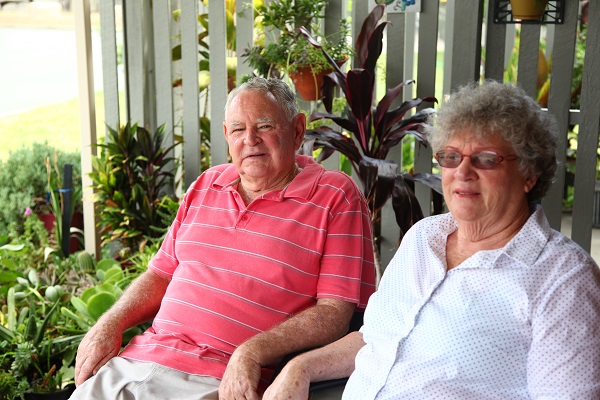 "Downsizing was not difficult for us. While we have fond memories of our beloved home, it was definitely time to consider a smaller house, and moving into a retirement community was an inevitable future step.
Our family was in favour of this move because we are able get all the services we need straight to our doorstep – you can't get that anywhere else," John said.
John and Jan, now in their 70s shared thirty years in Karalee, Ipswich, raising their six children and tending to a hobby farm. While Jan looked after the household, John was employed by the Ipswich City Council.
"For the first twelve months I struggled, I felt like a bird who had fallen out of the nest and wondered whether we had made the right decision.
"It was a radical change, but I love it now. On an acreage you're on your own, you hardly see your neighbours and there's continuous maintenance required.
"I guess for me it was discovering my hobbies again and what made it easier was the sense of community and the freedom to live independently," John said.
"While it's not gated, there's that extra security and companionship you don't get in estates.
"We are so lucky to have a home that has more space than a lot of new developments, there's plenty of grass on both sides and a picturesque view of the Scenic Rim," Jan said.
John and Jan have since discovered their green thumb, tending to their vegetable and flower garden, lay-preaching at various churches around the Scenic Rim and Ipswich regions, and travelling regularly.
"We don't need a forethought about going on a holiday. We can decide that morning, inform our neighbours and go knowing our home is safe and well looked after," Jan said.
"We did not lose ourselves or our independence when we moved here, in fact we have ventured out to do more than we imagined.
"There's a certain sense of isolation when living on an acreage, but here you can spend the whole day walking around the village and talking to everyone," John said.
"There's no shortage of activities. What I like about it is that you can get as involved as much or as little as you like.
"You don't have to do anything, but there is an opportunity to get involved," John said.