12 Jul 2022
A sense of community, fun social activities and the chance to make lasting relationships are some of the rewarding experiences of living in a retirement community.
At Nubeena Retirement Village in Toowoomba, Margaret Durnan has been a driving force building a sense of community for the past 12 years.
When Margaret joined the village, the retirement living manager identified her as the type of person who was perfect to lead the resident social group.
Retirement Living Administration Officer, Kellie Nicolle, said Margaret is at the centre of the social fabric of the village.
"Margaret is affectionately known as 'Miss Bossy Boots' by her fellow residents," Kellie said. "We listen to Margaret and go ahead and do what we should do."
Margaret assists the village staff by helping with letterbox drops through the village to ensure all residents are up-to-date with the latest social calendar events.
"Margaret wouldn't dream of retiring from the social committee. Other residents regularly express their thanks and gratitude for Margaret's hard work, organising and making events run smoothly."
Margaret is the 'catering department' and is certainly in the thick of it all with a reputation as a 'workaholic'. From organising the annual Christmas Carols and luncheon to engaging with the wider community and organising educational sessions at morning tea, she brings energy and enthusiasm at all village events.
Margaret gets a true sense of joy from fundraising, sourcing of Nubeena Residents Social Committee Community Centre amenities, and organising the residents monthly bus trips around the region.
"The events have been just huge. The cakes and nibbles Margaret's served up and the cuppas she must have poured, she is truly the 'boss' of all things social. Everyone gets fed and has a great time," Kellie said.
Margaret also cares about her fellow residents, checking in on residents who aren't well, and asking about how people are going.
"Margaret is sensible and doesn't panic. In the past Margaret has been caught cleaning the old 20-seater bus."
She has also planned many bus trips for the residents over the past decade with events including trips to the Sunshine Coast and Northern NSW.
"Such great marvellous trips have been had so far, it really has to be commended. All the exciting places we've been to over the years."
Close by Margaret's side in the social committee has been fellow resident and close friend, Betty Howse. Betty shared that Margaret is a wonderful person who is always keeping things organised in the village and is willing to help other residents in times of need. The village wouldn't be the same without her.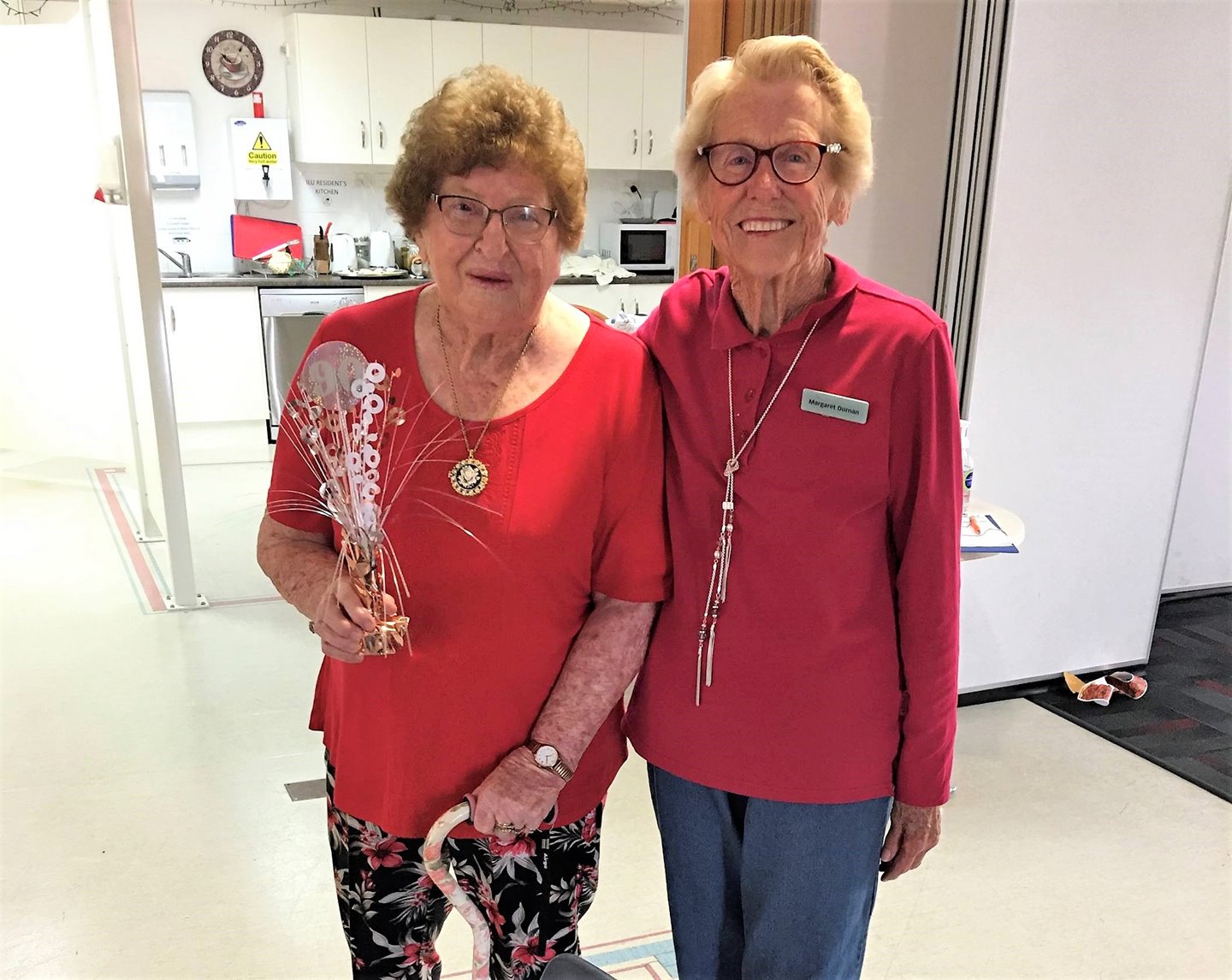 On Tuesday 12 July, Margaret celebrated her 90th birthday with a celebration in the community centre with her family and fellow residents.
"We look forward to many more years of Margaret continuing to be the social dynamo we know and love."