5 Dec 2019
In 2008, John suffered a stroke and spent the next nine years living in a nursing home in Dalby, on the Darling Downs, despite being decades younger than his fellow residents.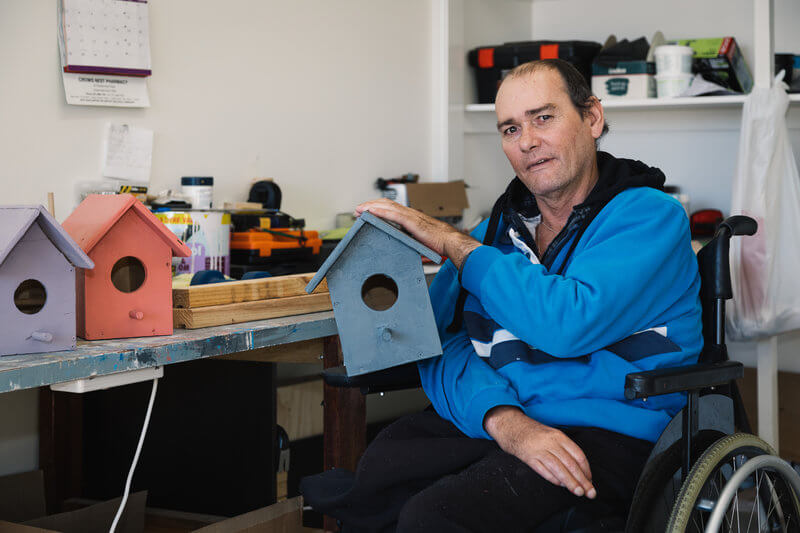 In April 2018, Churches of Christ Housing Services was able to provide John a more appropriate home that not only meets his physical needs, but allows him to exercise independence and pursue his passions.
Churches of Christ Housing Services Lee Court development in Crows Nest (40km north of Toowoomba), allows up to three people living with a disability to share a house, with accommodation also available for an on-site carer. It provides appropriate, accessible accommodation for people, like John, who due to their disability would otherwise be forced to live in an aged care setting. The home fosters the independence its residents crave, while ensuring care and safety for residents.
Since moving in John has made many local friends, he likes to visit the local hotel and each week meets the other members down at the Crows Nest Men's' Shed.
John is an avid woodworker, and with the support of his carers he has transformed part of the garage at Lee Court with workbenches to form a workshop where he busily builds birdhouses to sell for $20 each.
John receives in-home care from a local specialty support organisation and enjoys the independence this brings. He is able to go shopping for his own food and cook his own meals, something that was not an option when living in the aged care facility. As a regular visitor to Lee Court, John's sister has seen the improvement in his life since he has moved into his new home.