14 Feb 2022
Social connection is important for all aspects of our health, especially as we get older.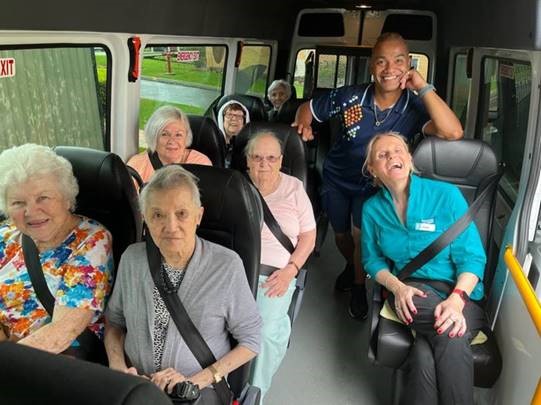 One third of Australian seniors currently live alone, so there is a real need to encourage social interactions that can help prevent feelings of loneliness and isolation.

Richard de Haast, Churches of Christ Director of Seniors Living, said that social activity is extremely important for older adults.

"Following the last two years of COVID-19 lockdowns and restrictions, we need to encourage seniors to reconnect with their communities and start socialising again," he said.

"Studies have shown regular social interaction leads to senior citizens living happier and more fulfilling lives, so it is important that we facilitate social opportunities wherever possible."

Richard said that in addition to improving their quality of life, socialisation also comes with a range of health benefits including improved emotional and physical wellbeing, higher levels of cognitive function, and a potentially reduced risk of dementia, high blood pressure, arthritis, and cardiovascular problems.

"At Churches of Christ, we are dedicated to helping our senior clients and residents live meaningful and engaged lives. We offer a range of activities across our Residential Aged Care, Home Care, and Retirement Living services that help people build social connections," he said.

Sheila is a Churches of Christ Home Care client who lives in her own home with domestic assistance from our team. She has a supportive family who would frequently visit and spend time with her. But last year, her family had to relocate, and her Home Care Workers noticed that she was spending more and more time alone.

"In order to prevent Shelia from becoming lonely and isolated, our Home Care Workers encouraged her to access the social connection services that are part of her package. After some convincing from the team, she agreed to attend a ladies day bus outing as a trial. While Shelia had initially been hesitant and nervous, she ended up loving her first trip and she is now a regular participant.

"I enjoy the camaraderie with the other women, and the Home Care Workers are always fantastic and fun. The bus outings give me something to look forward to every week," Shelia said.

Mr de Haast said it is wonderful to see Churches of Christ services resulting in positive outcomes for clients like Shelia.

"Our goal is always to positively impact people's lives, so I'm thrilled that our exceptional Home Care Workers have helped make a difference to Shelia by providing her with an opportunity to get some much-needed social interaction," he said.

This holiday season, consider checking in on older neighbours and people in your community, a little conversation can go a long way to improve their wellbeing.

Shelia (wearing pink) pictured on her first ladies day bus outing.