13 Apr 2020
Home Assist Secure celebrates client's 72nd wedding anniversary
Cherishing 72 years of marriage is definitely a cause for celebration for Southport's Rex and Shirley Abel.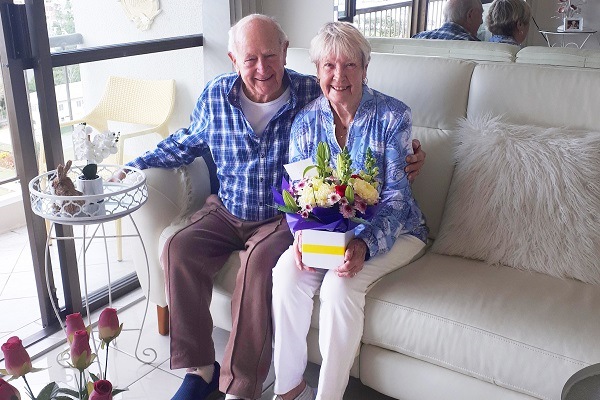 An inspiration to three children, seven grandchildren and six great grandchildren, after more than seven decades Rex and Shirley still have the gift of completing each other's sentences.
Sharing some very simple secrets to a lasting marriage, Shirley said the couple try not to argue, find compromise and always make the time for each other.
The couple met through a mutual friend who introduced them on a blind double date to the movies.
Three years later Shirley and Rex tied the knot on 1 May 1945.

Their love story began in Melbourne, where they built a life for themselves and their children before retiring in sunny Gold Coast.
Purchasing a beautiful property in Southport, Rex and Shirley continue to keep the flame alive well into their 90's with the assistance of Churches of Christ in Queensland Home and Community Care's Home Assist Secure Program.
With Home Assist Secure, the couple find more time to spend with each other, while the team from Churches of Christ in Queensland complete maintenance work around their home.
Receiving $500 a year towards labour, the Abel's have had a new oven installed, a washing machine repaired, hand rails installed in the bathroom, and replaced door hinges and light fixtures.
"The Home and Community Care team have been so wonderful, they've really been able to assist us continue living in our home.
"A few months ago my oven door wasn't closing, and I thought it was time to replace the whole thing. I gave the team a call and they came without any trouble, remove the old one and installed my new oven so quickly.
"They have just been incredible from the start. You just ring up and they're there for you. We've been living in our home since 2005 and every now and then it needs a little TLC. We have been so happy with the services," Mrs Abel said.
Learning about Rex and Shirley's 72nd wedding anniversary during a phone call to schedule their next visit, the Home Assist team organised a delivery of chocolates and flowers to make it a special occasion for the couple who were unable to spend it celebrating with their loved ones.
Churches of Christ in Queensland has continued to support their valued home and community care clients throughout the pandemic, ensuring extra hygiene precautions are taken and physical distancing is maintained.
The leading not-for-profit has helped Gold Coast seniors and those across Queensland crucially remain safe and connected in their own homes during this unprecedented time.