3 Sep 2021
For the past three years, teams of determined young people from our youth services have taken part in the Kokoda Challenge.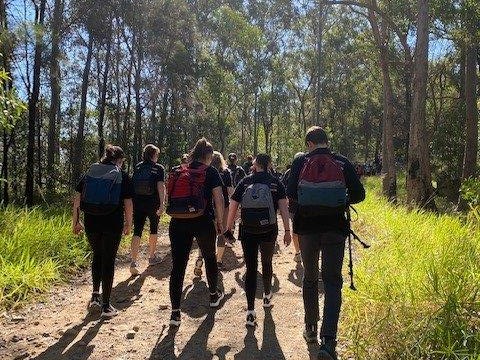 This year, on Saturday 17 July, four teams, all called the Desert Daisies, tackled the challenge in the Gold Coast hinterland.
The desert Daisies teams were comprised of young people aged just 11 - 16 from our foster care services, Supported Independent Living Services and Residential Care Services, including Kookaburra house and Bundamba lodge. Participating alongside the young people were CYF team members Rachel Robinson, Jacob Spall, Ben Pritchard, Molly Robinson and Kylie Collins, with support crew member, Brent Iverson.
Regional Manager, Rachel Robinson, was proud to report all of the young people who started the trek successfully finished it.
"Despite being incredibly tired by the end and having very sore legs, the young people's months of training, as well as their encouragement of each other, helped all four teams get to the finish line."
Rachel says the Desert Daisies undertook a cross-training program by way of preparation.
"The kids did a lot of Adventure Therapy, including mountain biking, walks and also camps at North Stradbroke Island. Some boxed weekly, which is fantastic endurance training, and others played footy every week. We also did weekly long walks at Daisy Hill and White Rock."
In addition to the physical training, Rachel says participating in Kokoda was an opportunity for these young people to prove to themselves they can set and reach goals.
"The teams walked up and down mountains covered in rocks and trails that were uneven through the day and night to achieve the goal that they had worked for.
"Participating in this challenge was incredibly positive for all the young people involved. They were able to challenge and push themselves to achieve something that not all of them had thought they were capable of. Seeing the pride and achievement on the young people's faces after having completed this was incredibly satisfying and moving."
"One young person talked about how when she was participating in Kokoda, it made all the negative thoughts and everything else that was happening in her life go away," said Rachel.
Engagement Officer and Desert Daisy team-member, Jacob Spall, says he has deep admiration for the support the young people showed for one another on the trail as teammates, and also in their day to day lives.
'It is so inspiring to see these young people form such strong connections with each other. They invite each other to parties and treat each other like family. It was wonderful to see how incredibly supportive they were of each other as teammates during training, and how they encouraged each other on the day at Kokoda."
Rachel says the mood of the group was positive for nearly all of the time.
"During one of the breaks, Ben, the case manager, read out positive messages from the Facebook page to the kids to motivate them to keep going to the finish line. It was a really nice moment."
"All of the young people were incredibly proud of themselves and what they achieved, and whilst initially they all said they never, ever, ever wanted to do this again, by the end of having had a big meal afterwards, some were saying they would look at not only doing it again next year, but doing the longer trek."
"We are already making plans to compete again next year, and training for 2022 is underway!"
The Desert Daisies
The Desert Daisies are named after an artwork created by Uncle Alan Parsons, an Elder from Bidjira/Yiman Country in Central Queensland. After meeting Rachel Robinson and Jacob Spall and learning about our Adventure Therapy program, Uncle Alan was inspired to show Rachel and Jacob his painting, saying it reflects the spirit of many of our young people in care.
Uncle Alan explained he was exploring the Northern Territory and came across the daisies, which seemed to be growing from nothing, adding remarkable vibrancy and colour to a sparse landscape. He was moved by the resilience and resourcefulness of the daisies, overcoming harsh desert conditions to grow into thriving, beautiful flowers. He was inspired to create the Desert Daisies artwork, incorporating actual desert sand.
The young people who have overcome challenging circumstances in order to flourish and thrive represent the Desert Daisies. Their determination and strength is as inspiring to witness as that of their namesake.
Uncle Alan's painting was anonymously donated to CYF, and has become an inspiring symbol for the young people participating in Kokoda, and those who support them.