5 Dec 2019
Driven to serve and protect vulnerable youth
Inspired by the work of Children, Youth and Families, we asked Regional Manager Rachel Robinson why she is passionate about working in child protection.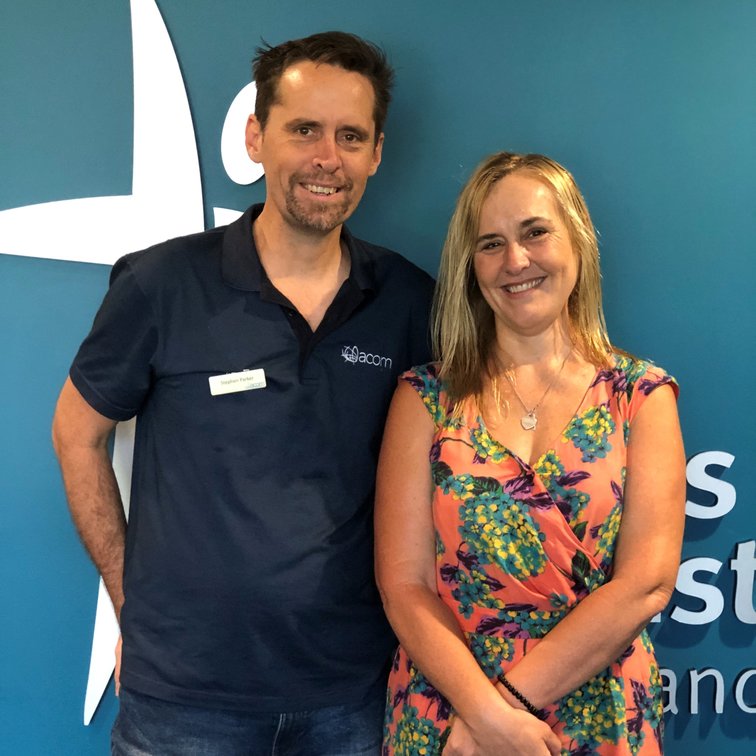 Rachel began her role with Churches of Christ Children, Youth and Families in 2015, after working in the industry for 20 years.
Why is working with Children, Youth and Families important to you?
My family have a strong affiliation with Springwood Church of Christ. My history with Churches of Christ in Queensland stems from my grandfather Victor Parker who was a Church of Christ Minister in between 1940 and 1980, and my brother Stephen Parker who is the Academic Coursework and Student Engagement Manager with Australian College of Ministries (ACOM). I have always had a connection with Churches of Christ in Queensland, and know my career pathway will always stay connected to my roots.
I love working with Children, Youth and Families services. Having spent the majority of my career working in government, I have loved coming over to the not-for-profit sector and seeing the amazing outcomes we can achieve for children, young people, and families. Our Children, Youth and Families team do incredible work and is comprised of passionate staff who make a difference in a very difficult field.
The biggest difference that we have been able to provide, and have built a reputation for is following and guiding a young person through their journey into adulthood. Providing them with choices and opportunities to make their own future and not be a representation of their past or family history.
What inspired you to pursue a career in social work?
From a young age I have always been driven to work in an industry that served to protect vulnerable children, youths and families, and protect them from harm through prevention and intervention.
My family has shaped the person I am today, but some young people do not have that support growing up, and that's where I believed I could make a difference.
I care deeply about ensuring young people feel safe and have the opportunity to make their own choices.
What is the most rewarding part of being a Regional Manager?
Child protection is one of the most meaningful jobs I have done. We are able to make a fundamental difference in the lives of children, young people and their families in a way that is not possible in many other jobs. Working with Children, Youth and Families has given me wonderful professional development opportunities, but it's the satisfaction of knowing I am making a difference that keeps me coming back every day.
Being in a managerial position allows me to work autonomously and within a team to introduce project work to assist young people deal with stress and stressful situations. We have introduced Adventure Therapy to work with young people to partake in outdoor activities as a way of dealing with stress. This includes participating in the Kokoda Challenge, the Brisbane to Gold Coast Cycle Challenge, and camping.
I often share my own experiences and adventures with young people for "blue sky thinking". I take part in several marathons, and have recently gotten back from Nepal, where I did a 14-day trek to Everest Base Camp. This involved a lot of training and preparation, and sharing this experience has motivated one young person to accomplish this trek when they turn 18.
A highlight of my role is getting to work with a dedicated team and young people, and seeing them achieve things they never thought were possible.
What are some challenging moments?
A challenging part of my role is finding pathways for children and young people to connect to their culture in as many ways as possible. I've experienced and seen the over-representation of Aboriginal and Torres Strait Islander children in statutory care and continuously see this systemically.
I have had the pleasure of partnering with Digi Youth Arts who worked with 11 of our Aboriginal and Torres Strait Islander young people to share their experiences of being in care, and used their experience to write a play titled 'Dislocated'. The children had the opportunity to perform the play and watch adults portray their stories. That was an incredibly enriching experience for everyone involved.
How can we better support children and young people in care?
There is a huge need for carers to provide children and young with a place that feels like home, where they are cared for, connected to family and culture, and where they can feel safe.
Seeing how you can make a difference to a child's life can be so impactful and rewarding.