31 Aug 2022
Today is all about connecting with Mother Earth, with each other
Peter Fowler is an accomplished artist and Kunja man who shared his talent and knowledge with our Ipswich residents at an art workshop in December 2021.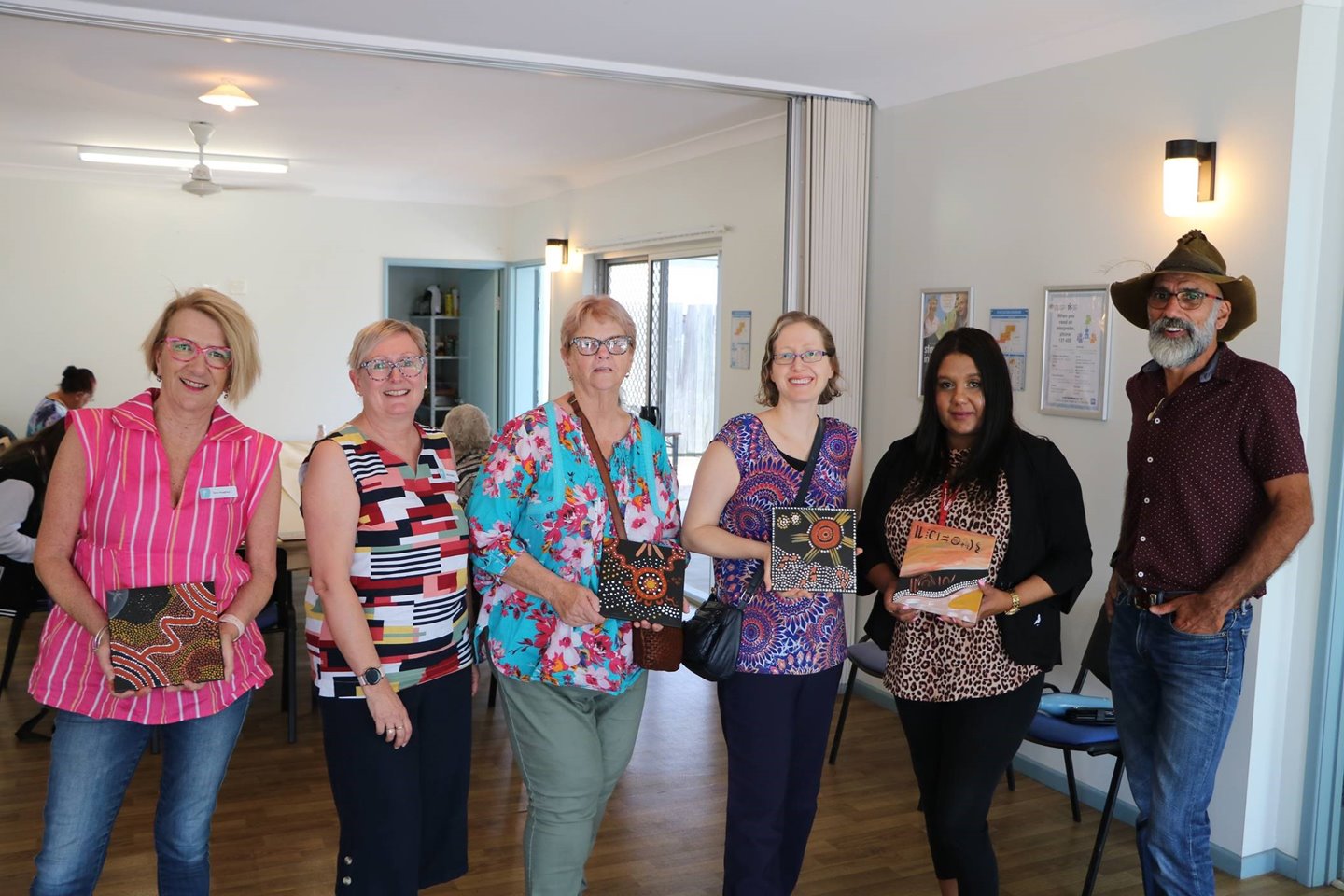 *Image (left to right): Sue Hughes (Community Engagement Coordinator), Michelle Warren (Housing Chaplain), Marian and Tanya (tenants); Kerri Conlon (Assistant Housing Officer) and Peter Fowler (artist).
The purpose of Peter's workshops is to connect with history, Country and each other. As a community-building exercise, free activities like this one facilitated by the Community Engagement team allow residents to come together in an environment where there are no barriers to participation.
The day started with Peter delivering an Acknowledgement of Country. Participants then gathered in a circle as they might around a campfire. As Peter explained, the sharing of stories and discussions about history are forms of education and this would often have happened at gathering places like campfires and water sources.
Peter shared his own experiences with us – his separation from his natural family and not learning of his Aboriginality until he was an adult. A number of tenants in Ipswich identify as Aboriginal or Torres Strait Islander and used this opportunity to discuss their own experiences with the group. Over ten per cent of our tenants identify as Aboriginal or Torres Strait Islander.
Peter's guiding principle was that "connection makes you care", and we achieve connection through knowledge, sharing with each other and forgoing ego.
To understand the vast history of Australia's Aboriginal peoples, Peter shared a number of common symbols, including those that referred to person, family, particular animals and the concept of a journey. Participants then used the symbols to form a narrative – each person was able to create their own story, with many people choosing to speak about family, work, home and community.
We are proud to be able to facilitate activities like this that enable our residents to learn new skills, have new experiences and connect with their neighbours – particularly when combined with such an important cultural backdrop.