8 Sep 2022
Chiropractic students provide valued healthcare to residents and gain practical skills in return
The Community Engagement team have designed and delivered a series of Neighbourhood Days in our communities experiencing significant financial barriers accessing important services.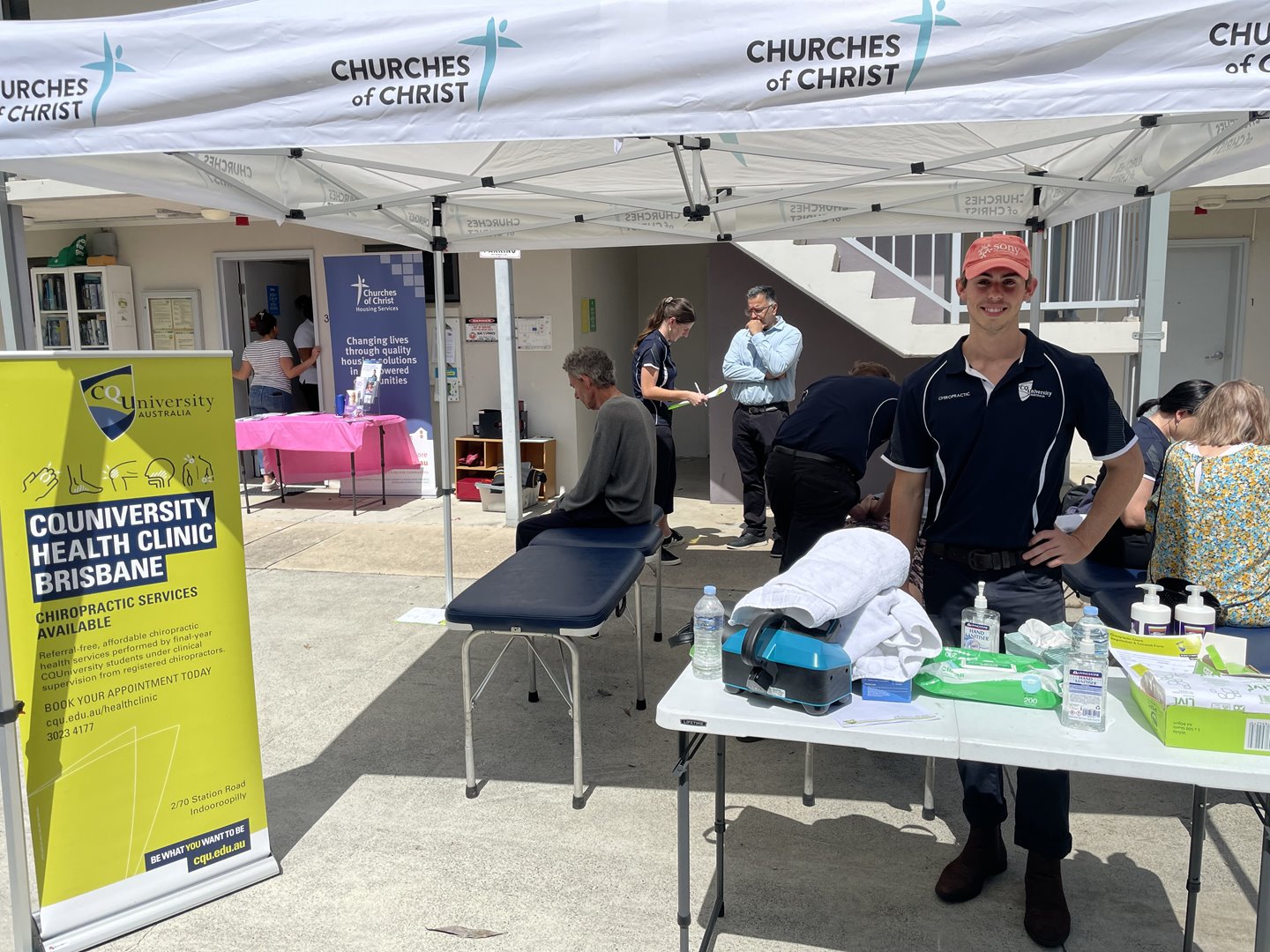 Residents who reside in these communities are encouraged to meet and mix with others in a welcoming drop-in atmosphere which offers resources, food, clothing and healthcare services including chiropractic care.
The Central Queensland University (CQU) chiropractic students provide a nurturing space for the residents to receive chiropractic treatment and in return gain invaluable practical experience.
Community Engagement Coordinator Sue Hughes said "We know that residents in our communities don't often have ready access to health care such as allied health, complementary and alternative medicine that is typically privatized and inaccessible due to financial barriers. We have designed these community days to bring these important community services direct to clients and at no cost to them."
General Manager of Housing Gus Taddeo said, "this setting provides a sense of community and an opportunity to simply chat with someone which is integral to part of the treatment they receive."
Improving the wellbeing of residents is approached from a holistic perspective in CCHS, requiring investment into the social, emotional, mental, physical, spiritual and practical needs of a person.
Facilitating interactions like the one between chiropractic student Bryn Rogers and residents has a positive flow-on effect which has broader benefits beyond the improvement of pain by also providing positive wellbeing outcomes.
Bryn was enthusiastic about the opportunity he'd been given to work with residents at one of Churches of Christ Housing Services' series of Neighbourhood Days.
As part of a Health Clinic team of students in their final-year of studies at CQU they offer referral-free, affordable services under the clinical supervision of registered practitioners.
Bryn pointed out that many of the residents might never set foot in a chiropractic clinic and they needed specialist muscular-skeletal health care. He said the most common problem they treated was back pain. Bryn talked with satisfaction about the work he'd just finished with one resident. "I did soft tissue release and immediately I felt his back muscles relax."
The interaction between housing residents and students is not a one-way street. Bryn explained that the hardest skills for students to learn were dynamic communication and social skills between practitioner and patient.
"At community events, we get hands-on skills practice, more exposure to different body types, and practice with patient-communication. Understanding the social dynamic between patient and practitioner is really important," he said.
Gus saw CQU students in action at a Neighbourhood Day event held at Kingsford Smith Drive. He pointed to the stall of chiropractic students who were serving residents that day as being an example of the mutual benefit events like Neighbourhood Day provided. Not only were the residents receiving specialist health care, but students were also learning to engage with different clients and gaining invaluable, real-world experience. In addition to the health benefits, Gus highlighted the enrichment of our communities that was also occurring.
The CQU Health team is just one of the many support services and community groups who regularly attend the CCHS Neighbourhood Day series of community-building events.