13 Sep 2019
Warrawee Aged Care Service welcomes Year 11 trainee to help her achieve her dream
Warrawee Aged Care Service has opened its doors to a trainee, giving a local student the opportunity to develop valuable work skills.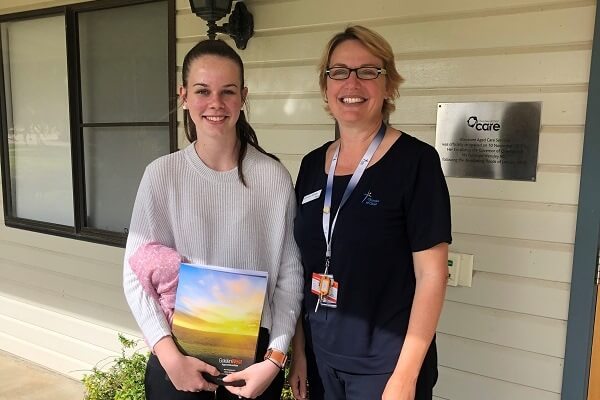 Paige Houlahan, in Year 11 at St George State High School, is completing a Certificate 3 in Aged Care. This includes a structured work placement at Warrawee Aged Care Service. The training is a step in the right direction to fulfilling her dream of becoming a nurse.

"I really like it, I want to do nursing so this training will really help set me up," Paige said. "The school gives me a two year timeframe to do it. I have to do a certain amount of hours, so I am usually at Warrawee on Mondays."

Churches of Christ Care Warrawee Aged Care Service Manager, Jennifer McKay, said the facility was excited to provide Paige with hands-on, supervised experience in a real work environment and welcomed the youthful enthusiasm she brought to the team.

"We are running the program in conjunction with Golden West in Roma, a community based, non-profit organisation that specialises in placing local youth and mature age job seekers into apprenticeships and traineeships," Jennifer said.

"Hopefully programs like these can keep more of our young people in town. It gives our local kids, by the time they get to the end of year 12, qualifications they need."

Vocational training with a workplace element facilitates students' transition between school and work, helping them achieve work readiness, and provides a highly skilled workforce.

"Churches of Christ Care has always focused on supporting local communities. We actively look to employ local staff and to help grow the community by working with organisations that offer training opportunities such as this initiative," said Churches of Christ in Queensland Executive Director Services Bryan Mason.