20 Dec 2022
Scholarship helps make childhood dream a reality
When Celina Gibson was a young child, she dreamt of becoming a nurse. Now, 40 years later, she is close to realising her dream after receiving a scholarship to support her studies.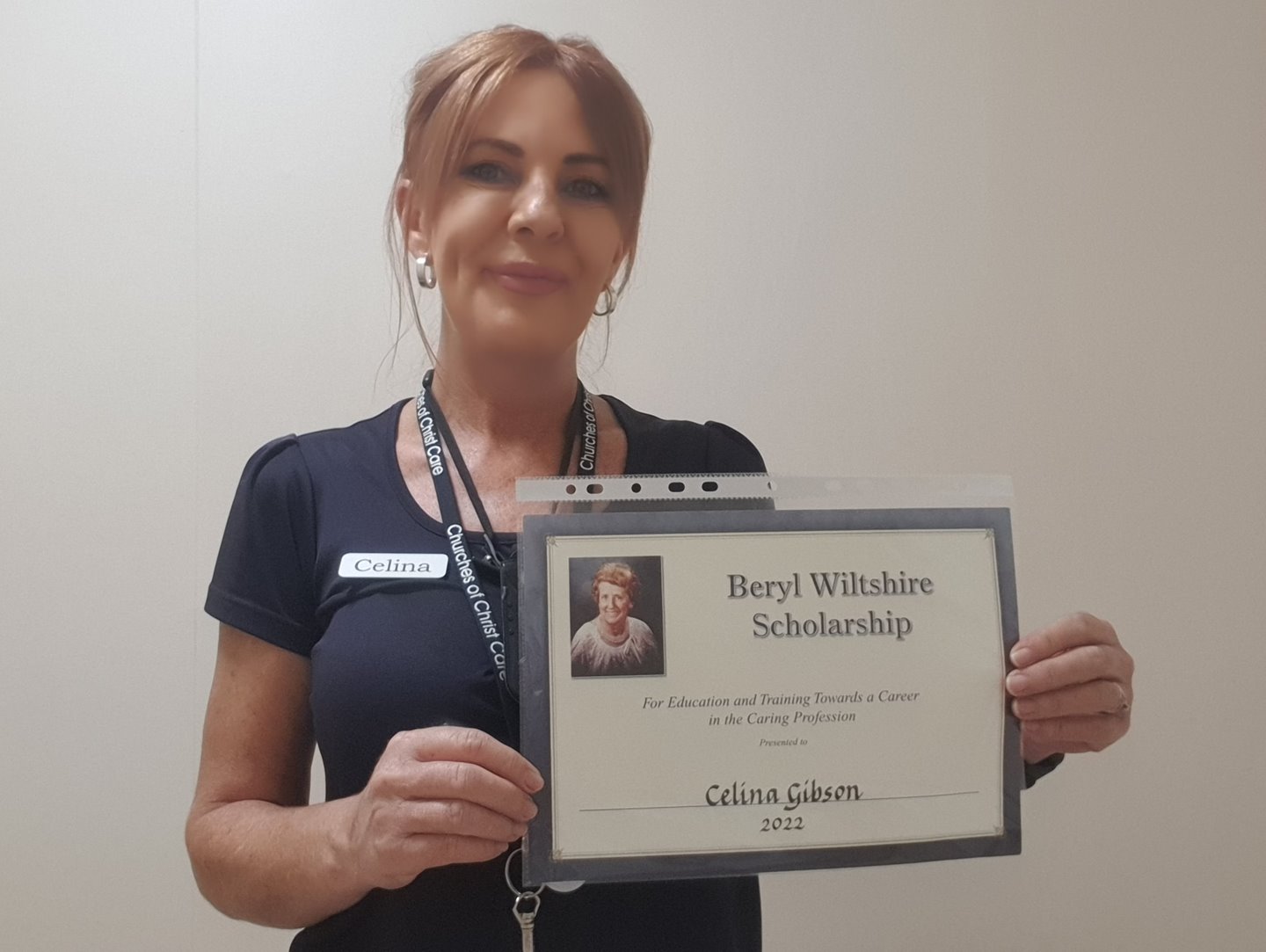 Celina began studying Bachelor of Nursing Science part-time in July 2022, however the mounting costs of living, coupled with her university fees, was placing her under a real financial strain. When she heard about the Beryl Wiltshire Scholarship she jumped at the chance to apply.
In October, Celina was one of four recipients of the 2022 scholarship, which this year doubled to $10,000 for one or more scholarships. The scholarships help with the costs of study towards a career within the social, welfare and human services sectors.
"I feel honoured and extremely grateful to have been chosen to receive funding from the Beryl Wiltshire Scholarship," Celina said.
"The scholarship means the world to me as without receiving the financial assistance, I would not have been able to pursue my goal to become a registered nurse."
The scholarship funds will go towards paying for her second semester, which she hopes to start full-time in February 2023, while also working in her full-time role at Churches of Christ Bribie Island Aged Care Service.
Celina said that while she knows it will be challenging to juggle the two, she is optimistic thanks to the supportive team at Bribie Island.
"I'm lucky I have a flexible employer who cares about up-skilling their employees," she said.
After many years in the aged care industry, Celina's desire to become a registered nurse was sparked when her Service Manager offered her the role of Medication Assistant.
"I loved every minute of it and after a couple of months I knew this was something I could do," she said.
Beginning in Churches of Christ in 2014 as a cleaner, Celina worked in the dining room and kitchen, before completing her Certificate III in Disability, and Certificate III in Aged Care.
Her first position as a personal care worker was at our Woorim Aged Care Service, a small, nine-bed supported living service on Bribie Island.
"It was very rewarding and I thoroughly enjoyed taking care of the residents," Celina said, however, she said she yearned for a more challenging role.
"When I transitioned to Bribie Island Aged Care, I loved the pace, the residents and my co-workers, and I made some very special connections with staff and residents."
"As a young child, I dreamt of being a nurse and now I am on my way to fulfilling my childhood dream."
To apply for the Beryl Wiltshire Scholarship, candidates simply outline their intention and motivation for embarking on a career in social, welfare and human services, along with the associated costs and tuition fee. No other conditions are placed on candidacy.
Beryl Wiltshire AM had a long and distinguished career with Churches of Christ and was respected leader in the welfare and community services industry. She received the Order of Australia in 1996 for services in the field of Social Welfare.
Beryl was a friend, counsellor, and mentor, to any who were in need and sought her help and advice. She had a particular talent for identifying the potential in people and this scholarship continues this tradition.