15 Apr 2019
Little Mountain Campus is open
Opening Week from 1 to 9 February 2019 included a Community Open Day and a range of activities designed to welcome neighbours, the local church, health professionals and more.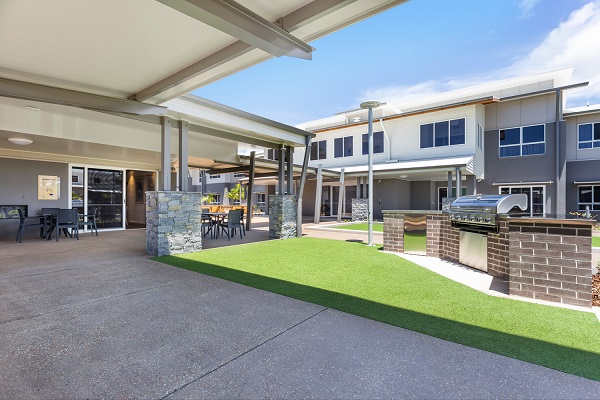 It is the first time Churches of Christ, or any service provider in Queensland, has created a campus comprising a residential aged care service, community care office, aquatic centre, cafe and community centre for local community and resident use in one location.
Families can spend time together in the café, enjoy watching grandchildren in the playground or participate in a swim program in the aquatic centre, or become involved in one of the activities that will take place in the auditorium.
Development of the campus supports what Churches of Christ set out to achieve when it began to explore development of an integrated community development several years ago.
Chief Executive Officer Gary Edwards said the idea was to create a place that could open up possibilities - for the community and campus residents.
"The campus is a place where an inclusive, healthy and connected community that fosters engagement, wellbeing and creativity can thrive in safe and accessible physical spaces.
We invite people to come and experience our warm sense of hospitality, where everyone will feel welcome," Mr Edwards said.
Campus facilities include:
Little Mountain Residential Aged Care Service
The aged care service has six cottages each with 16 private bedrooms with ensuites. Facilities, space and programs mean people from all ages can come together, connect and enjoy themselves. First residents John and Beryl Jobe (below) moved into a cottage in February.
Aquatic Centre
Members and residents have access to a 25m heated lap pool and 7.5m heated learn to swim pool. People are enjoying the formal programs such as aqua aerobics, squad training, school swimming programs, learn to swim programs and lap swimming.
Community Centre
A large auditorium can cater for up to 250 people. There are four function rooms and one training room that can cater for groups up to 25.
Community Care
Churches of Christ Care Community Care onsite office serves as the regional base for staff who support seniors to live independently at home.
One Table Café
Everyone is welcome to drop by, or take-away, a cuppa. The café is open Monday to Friday from 6am to 6pm and on Saturday mornings.