24 May 2022
Extension supports more regional seniors
The extension opening at Barcoo Living Multi-Purpose Service in Blackall is a refreshing sign of progress amongst the ever-present calls for support for seniors in regional and remote areas of QLD.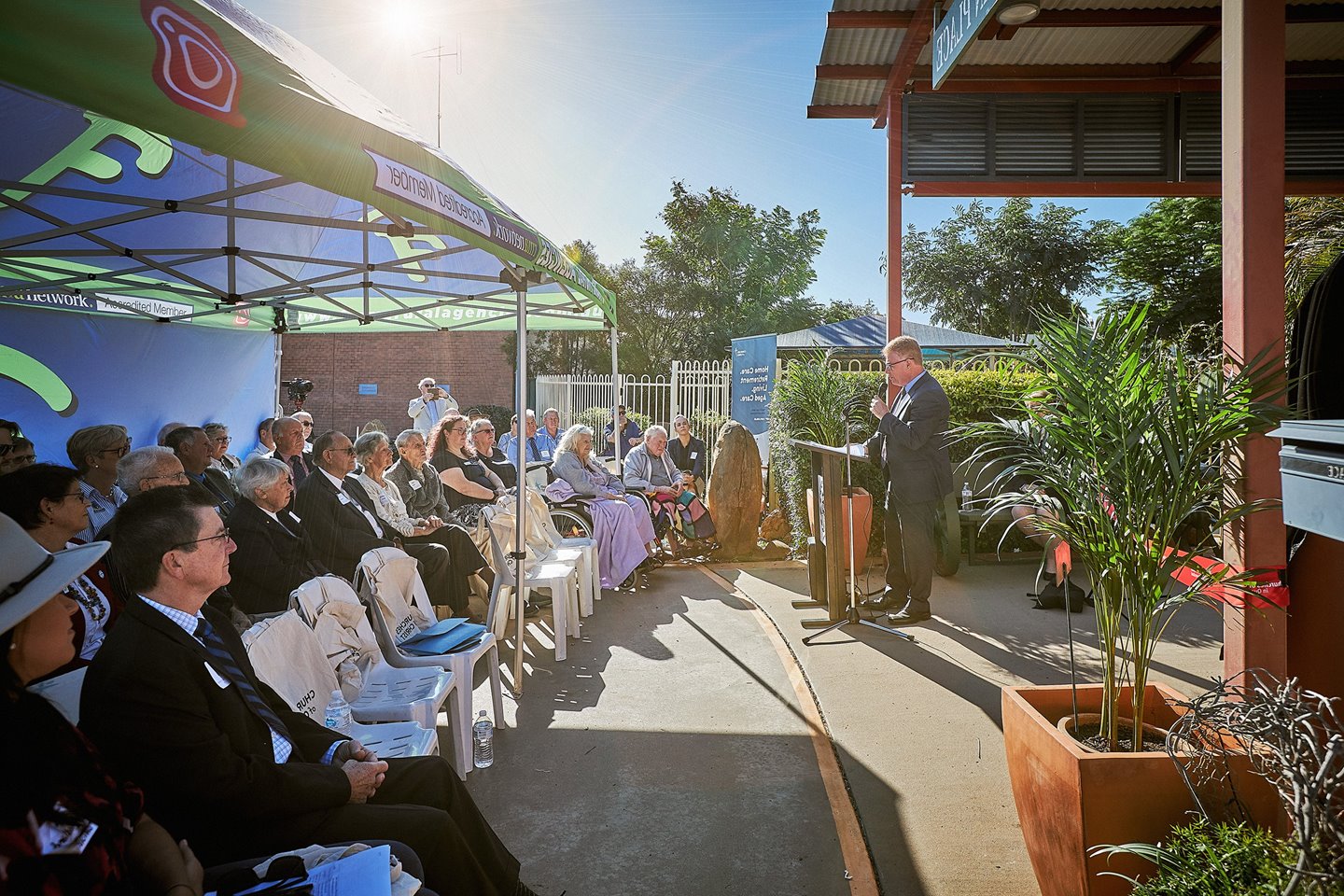 On Wednesday morning, 18 May, the local community, dignitaries and representatives from Churches of Christ celebrated the opening of the latest 10-room extension and acknowledged the lasting legacy of Owen Stockwell.
In the 20 years since Churches of Christ opened the first 14-beds in 2002, the service has grown to provide 34-beds to support local seniors.
Churches of Christ CEO, Gary Edwards, said local philanthropist and businessman Owen Stockwell had fiercely advocated for the need for an extra 10 rooms at the service to meet increasing demand in the community.
"After rigorous discussions and planning, site works commenced in November 2021, and we are pleased to be opening this outstanding extension and welcoming new residents," Mr Edwards said.
The extension provides 10 extra bedrooms, each with ensuite and veranda, updated communications infrastructure, new and improved spaces for residents, a new cold room, and updated laundry.
"We are proud to have delivered this development on time and on budget."
Mr Edwards said the $3.6 million project was funded by four parties: the Barcoo Retirement Village, the Stockwell Webber Foundation, Churches of Christ, and the Federal Government through a $600,000 Capital Development Grant.
"Thank you to Owen Stockwell, the Barcoo Retirement Village Committee, and the Blackall community for your generous donation and unfaltering support of local seniors and ensuring they can access the best possible care. The support you have provided over the past 20 years to Barcoo Living Multi-Purpose is remarkable and has meant that many seniors from your region have been able to remain right here, in their community.
"We are committed to continuing to invest in the future of this service and the Blackall region, and look forward to our strong relationship enduring."
Hutchinson Rural built the extension, with an innovative offsite construction method chosen to keep costs down. The building was constructed in a factory in Toowoomba, before being transported to Blackall and assembled by a team of local workers.
Following the official ribbon cutting, the second part of the morning celebrated Owen Stockwell, with the unveiling of a bust statue in the service's garden. The statue is a permanent reminder and acknowledgement that if it were not for Owen and his tenacious fight for services for seniors in the area, that Barcoo Living would not be here today.
"Barcoo Living will stand as a legacy for the dedication Owen has for the community and the region. That is why I am so pleased to be here today as we unveil this honour for Owen as a lasting acknowledgement of all that he has done," Mr Edwards said.