22 Nov 2022
Connection through the generations
Residents at our Warwick Aged Care Service are enjoying weekly visits with students from Assumption College to participate in activities together.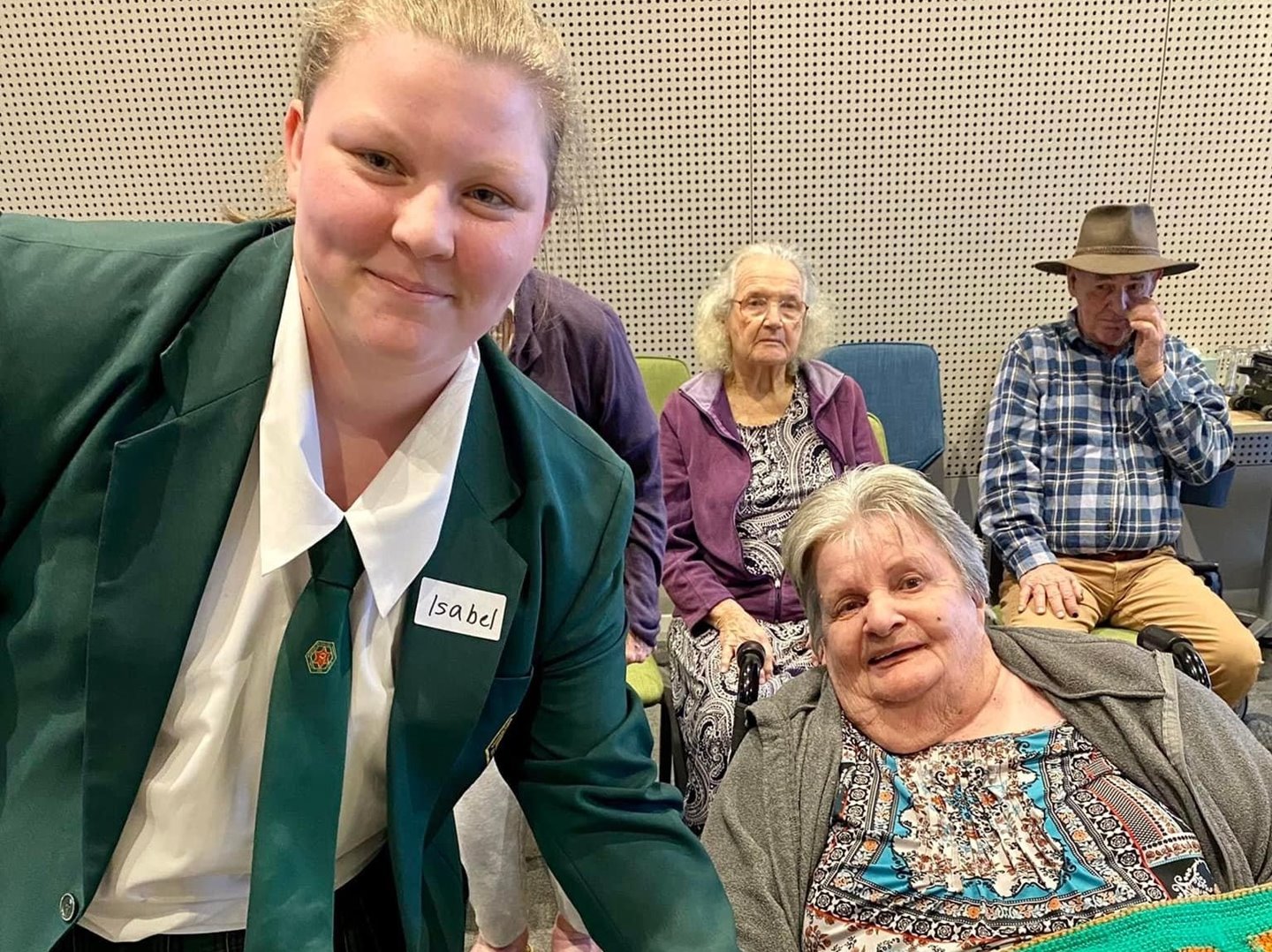 Board games, story-telling, gardening and dancing are just some of the ways these teenagers are connecting with the residents at this aged care home.
Some say intergenerational connection has been somewhat lost in our modern world, where we are possibly connected more to our devices than we are to one another in real life. Nerissa Shepherd (Noo) is the Campus Manager at Churches of Christ Warwick Campus, and is passionate about creating these opportunities for reconnection.
Noo has been involved in several programs that foster relationships between young and old, including a pen pal program during COVID lockdown.
"We live in a world of technology, where people are on screens from the age of five, and we aren't communicating like we used to," Noo said.
Once restrictions were lifted, this sparked an idea for Noo to continue the connection in real life, and she coordinated the primary school-aged children to meet up with their older pen pals.
When she saw how the participants benefitted from this intergenerational communication, a further idea developed to connect teenagers with the aged care residents. So, she approached local school, Assumption College.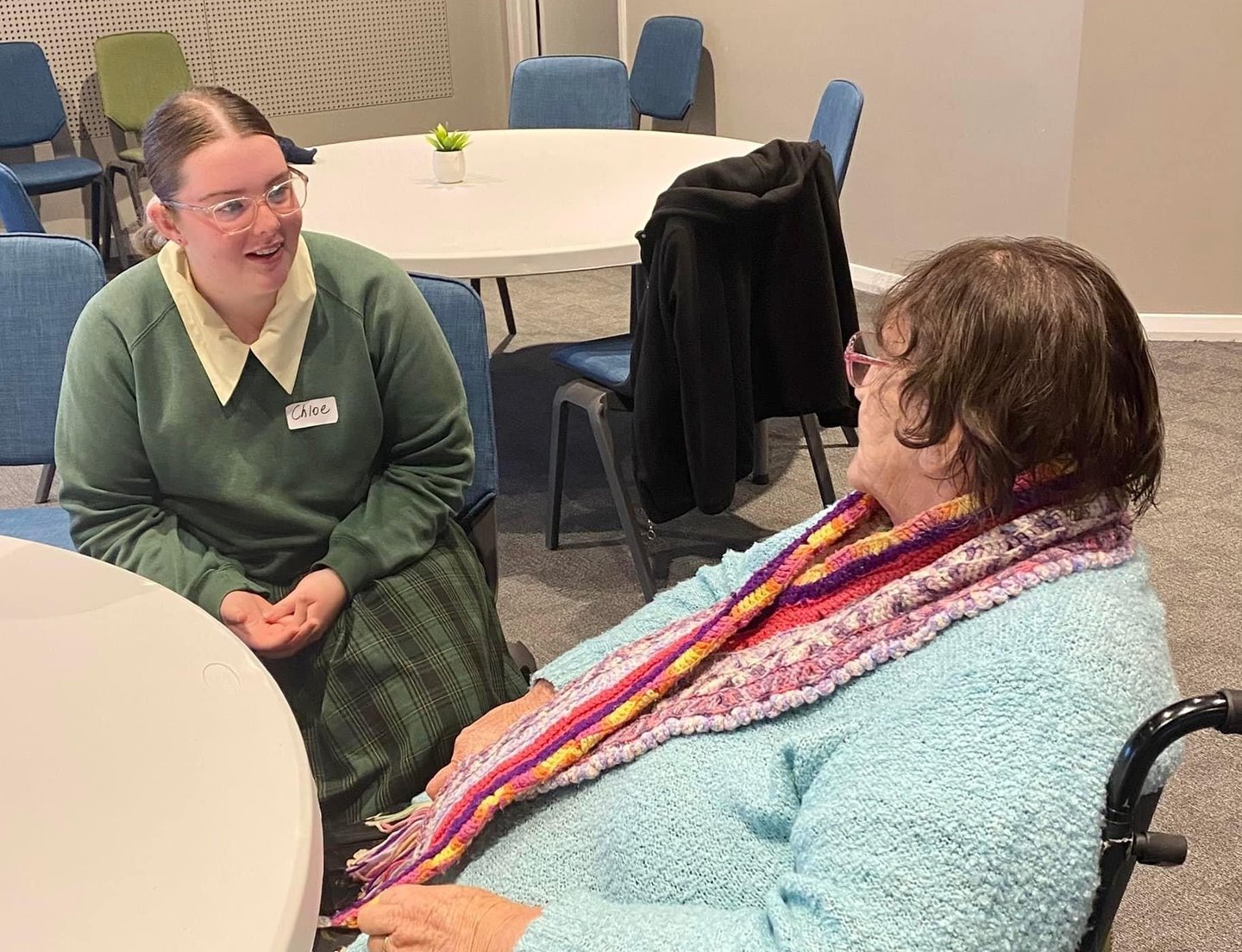 "I am passionate about community engagement. Connection is really important," Noo said.
"I met with the college, and they agreed to trial a program to have students visit, but they said I had to convince them it was a good idea. So, I got up and spoke at their school assembly and we ended up with 116 kids volunteering to be a part of it!"
Now, every Thursday, nine students from grade 7 to 12, come from the college to Warwick Aged Care to spend time sharing afternoon tea and a range of activities.
Noo said residents really look forward to it, some even saying, 'Thursday is their favourite day because of this activity'.
"It's great to see people connecting, and communicating, finding common ground, to open up the lines of communication. I've seen some residents who don't often participate in activities come out of their shell to spend time with these young people. That makes it so worth it," she said.
Studies[i] show that elderly people are more likely to experience feelings of loneliness, and this increases the risk of disease. Facilitating sessions and programs that foster connection has incredible benefits for everyone involved.
Noo said it's a team effort to make this happen, with the Lifestyle Coordinators and Personal Care Workers also being committed to establishing the activities.
Because the residents get so much out of the interactions, there will be a school holiday program over the upcoming Christmas break, where parents can bring their school age children to spend time with residents to do craft, games and activities.
When asked what advice would she give others who might be wanting to set up programs like this, Noo said, "It's not that difficult. Most schools are really keen to get involved with intergenerational program. Find a way to facilitate it, and have a champion person to drive it, and if you want some advice I'm happy to talk with people about how to do it," she said.
For more information email Noo at: [email protected]
[i] Elderly Loneliness Statistics (2021): Social Isolation Effects (consumeraffairs.com)