15 Apr 2019
Grant recipients give back to community
Since 1986, the COFC Foundation has provided $1 million worth of grants to churches to support mission activities in their communities.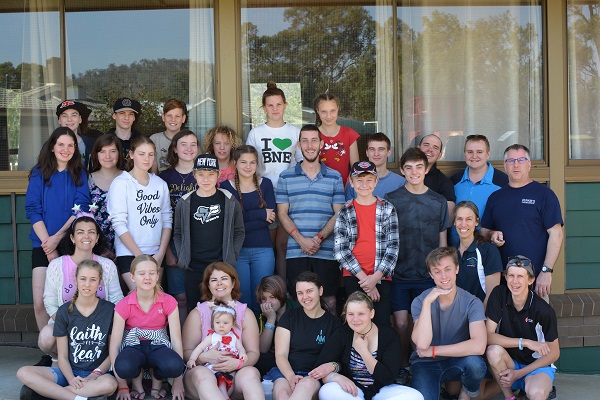 Gladstone Church of Christ
HopeLINK
Gladstone Church of Christ is responding to the needs of the local community through HopeLINK ministry. Through HopeLINK a space was created for mentoring and social groups, counselling services and now the hOPeSHOP to sell affordable second-hand items to provide physical relief for the community. With the assistance of the CDF grant, hOPeSHOP was able to create a space for volunteers to feel valued with the addition of a shaded workshop area, including in-store fans, pricing guns and a moveable collection bin (pictured).
Kingaroy Church of Christ
Combined Churches Youth Group (CCYG) Camp
CCYG Camp is an initiative by Kingaroy Church of Christ for teenagers and young adults to connect and form friendships by engaging in church and faith. The CDF grant helped lower costs of the youth camp making it affordable for teens from financially challenged backgrounds to attend. The youth ministry also used part of the funds to purchase sporting equipment to increase engagement with young adults and help build their confidence.
Zillmere Church of Christ
Bean Redeemed and Pins and Needles
Bean Redeemed is a coffee and chat initiative by Zillmere Church of Christ to improve church engagement with the local community. Facilitating a drop-in coffee hub and a learn to sew and conversational English group called 'Pins & Needles', the grant, supported by the church's commitment to match the grant dollar for dollar, has allowed the church to upgrade its hall facilities to provide greater flexibility and functionality to improve church engagement with the community through these outreach programs.
Silverdale Church of Christ
Fassifern Youth Initiative
The Fassifern Youth Initiative is a collaboration of seven churches in the Fassifern district dedicated to bringing the light of Christ to the youth of the region.The Fassifern Youth Initiative hosts 65 youths every Friday evening and facilitates holiday programs. The funds received from CDF have contributed to hall hire fees, parent workshops, leadership programs and the employment of a Youth Minister.
If your church has an idea for a mission activity or ministry that needs a kick start or has an existing mission activity that needs a funding boost, contact Centenary Development Foundation by visiting cdf.org.au to find out when the next round of applications are open!