25 Jun 2020
Community partnership laps $10,000 in auction proceeds
Southport Church of Christ Pastor Steve Peach helps celebrate motor sport milestone.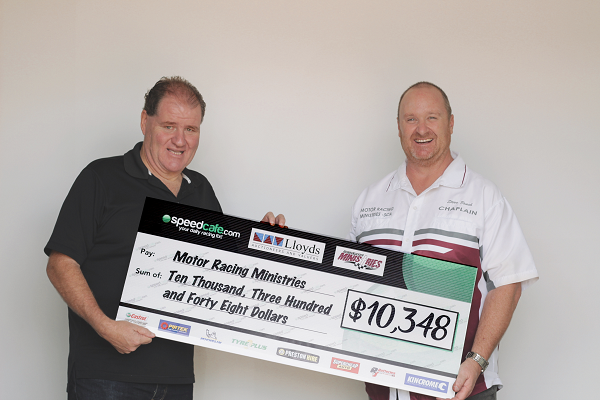 Since 1986 Motor Racing Ministries' chaplains have been regular attendees at motorsport events across Australia, helping guide drivers, teams, officials, volunteers, the public and families through many critical times when there are severe accidents or injury as a result of competition.
Last year, Brett Murray, the founder of Speedcafe – an Australian motor sport news website –selected the chaplaincy team, and Motor Racing Ministries more broadly, to be Speedcafe's charity of choice.
One of the key partnership activities involves donations of motor sport items by motor racing stars like Craig Lowndes, Jamie Whincup and Brett Murray himself. Proceeds from the auctions of these items are donated to Motor Racing Ministries.
Recently the total for auction items surpassed $10,000. To commemorate this milestone, Brett Murray handed over a giant cheque to Motor Racing Ministries' chaplain Steve Peach.
In addition to his role as lead minister at Southport Church of Christ on the Gold Coast (and Churches of Christ in Queensland Council member), Steve is one of 50 chaplains on the Motor Racing Ministries team.
His association with V8 Supercars goes back to 2008, when he raced with Andrew Fisher in the V8 Ute series. Shifting into a chaplaincy role in 2012, Steve regularly volunteers at Supercar events across the Australia.
"These funds will go a long way to identifying and training new chaplains for circuits and categories across Australia in all forms of motor sport," Steve said.
"It's great to have the support and exposure of well-known motor sport identifies such as Brett. It adds industry credibility to the largely behind the scenes work our chaplains do, and we really appreciate it," Reverend Garry Coleman, who leads the chaplaincy team, said.
Garry highlighted that the chaplaincy team are a significant part of motor sport events, offering care and support for families when there are on track incidents, hospital visitation and counsel for officials and teams alike. The investment into the human side of is critical, as it is in any community, and the motor sport community is no different.
Motor sport has been on hold during the COVID-19 restrictions period, however the team remain busy. "There are always people to care for and follow up, even when we're not together at a track," Garry said.
Steve, along with Charlie Sandham from Whitehill Church of Christ in Ipswich – another Supercar chaplain – is doing great work within the motor sport community, "Bringing the Light of Christ to Communities" at race tracks across the country.