2 Dec 2022
A Christian heritage spanning 317 years – and counting
Eight families gathered for a very important photo on Sunday 26 June 2022 at Westside Church of Christ.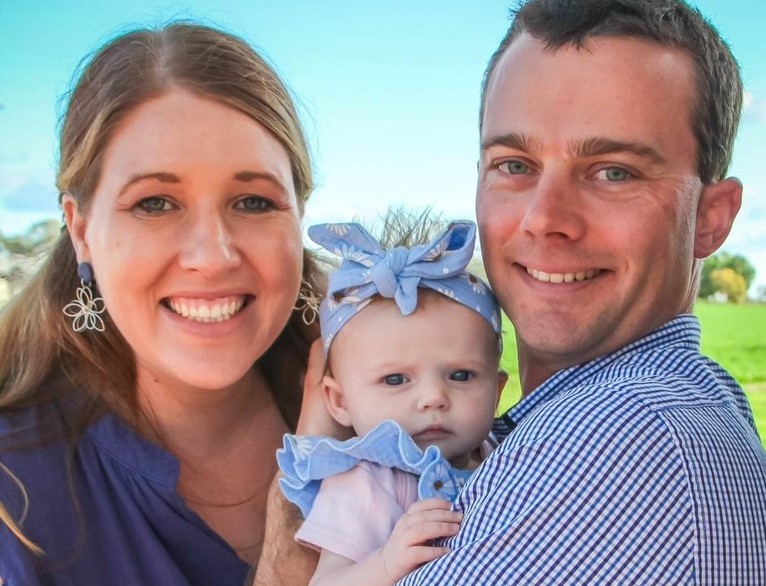 Blog written by Ingrid Harris & Shirley Flett
Hayden and Jessica Flett were joined by their extended family to celebrate the birth of their daughter Katelynn Rose, born on 18 May. It was extra special, with Katelynn's two sets of grandparents and four sets of great-grandparents there, as the family celebrated their amazing Christian and Churches of Christ heritage. Katelynn is the latest member of a family with deep connections to Churches of Christ.
Troy and Ingrid Harris, Jessica's parents (married 34 years), met at Kenmore Church of Christ. Ingrid's parents, Barry and Elke (nee Schreiner) Benz (married 58 years), have been ministering with Churches of Christ since 1964, pastoring at the Austral, Gilgandra, Albion, Mile End, Kenmore and Gatton Churches of Christ. Troy's parents, Keith and Roslyn (nee Bryett) Harris (also married 58 years), have been involved with the Kenmore Church and are one of the founding families of the Westside Church of Christ, Keith involved in its building.
Troy and Ingrid and Darryl and Shirley met through the Kenmore/Westside Church's study nights at Randy and Marie Edwards' home and the Shannon Park Churches of Christ camps in Toowoomba.
Darryl and Shirley Flett, Hayden's parents (married 34 years), have been involved with the Hopeland/Chinchilla and Kenmore/Westside Churches of Christ and along with Hayden, Jessica (married five years) and Katelynn, are currently part of the Church family in Chinchilla. Shirley's parents, Doug and Dawn (nee Fredline) Trace (married 64 years) have been part of Annerley, Kenmore and Westside Churches with Doug first attending the Moorooka Church of Christ in about 1949 during his high school years. Katelynn's great, great-grandparents (Trace) were married in the Annerley Church in 1932.
Darryl's parents, Arthur and Gloria (nee Hart) Flett (married 64 years), also have a long history with Churches of Christ. Arthur's involvement goes back to the Wambo Church of Christ which met on the property where he grew up. After moving the building when Arthur was about 15, it became the Hopeland Church of Christ, which later combined with Chinchilla. Gloria's first involvement with Churches of Christ was Sunday School at the Sunnybank Church, where Katelynn's great, great, great-grandparents (Hart) attended.
"It was a wonderful family get together, but also a celebration of a combined 317 years of Christian marriage and even longer of Christian ministry," Ingrid said.
What a heritage Katelynn has!