16 Dec 2020
Even if they only stay for a few days, they are part of our family
Growing up in a safe and loving environment is something that many of us take for granted.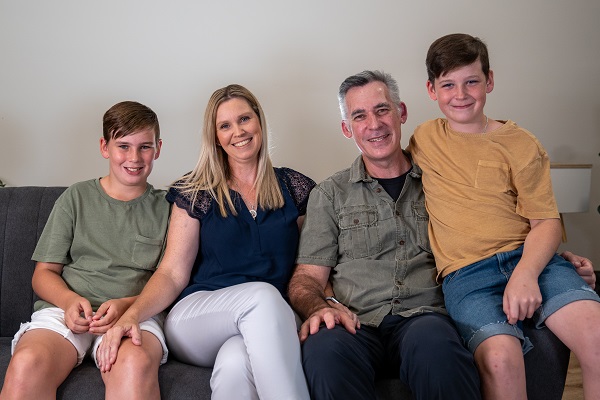 In Queensland today, there are hundreds of children and young people who are unable to remain living in their family homes due to unsuitable or unsafe conditions. These children and young people need a safe and nurturing environment that foster carers provide to help them find a path to a brighter future.

Churches of Christ in Queensland is the largest not-for-profit provider of foster care services in Queensland, caring for more than 3000 children and young people each year.

Scott and Melissa are currently foster carers with us and have been caring for children in out-of-home care for over 14 years. For the couple, foster caring is a normal part of everyday life; they couldn't imagine their home any other way.

"It's beautiful to make a difference in somebody else's life," Scott said. "People often comment on how caring we are towards each other. They see how our kids and the extra kids all get along and become one family."
Having grown up in a vibrant home, filled with foster children cared for by her mother, Melissa witnessed first-hand the impact fostering can have on the life of a child or young person.

"I love it," she said. "Getting to play even a small role in transforming young lives for the better is something so unique and special."

Scott and Melissa have two children of their own but said that as soon as a foster child or young person enters their home, they are considered family.

"There is no use of the 'foster' word in our house at all; they are all brothers and sisters," Scott said. "Even if they only stay for a few days, they are part of our family."

After 14 years, Scott and Melissa remain dedicated foster carers and are passionate about encouraging others to consider becoming foster carers.

"We love being foster carers," Scott said. "It has been such a rewarding experience for us – we'd love to see more people consider getting involved."

Churches of Christ in Queensland believe that foster carers play a vital role in shaping young lives and are always seeking dedicated people who are willing and able to take on this rewarding role.

"The demand for foster carers is greater than ever before," said Leanne Rutherford, Churches of Christ in Queensland – Children, Youth and Families, General Manager. "The events of this year have had inevitable flow-on effects into foster care, with more children needing safe homes and fewer carers available to provide them."

"Our priority at Churches of Christ in Queensland, with the help of dedicated foster carers, is to keep children and young people safe in homes where they can belong, while maintaining their connections to family, kin, culture and community."

"We also recognise that each fostering situation is unique, so carers have the option to specify what type of care they can provide," Leanne said.

Churches of Christ in Queensland currently offer respite, emergency, short-term and long-term foster care options.

We believe it takes a community to provide a safe and caring home to belong.

If you are considering becoming a foster carer or interested in finding out more, please click here.